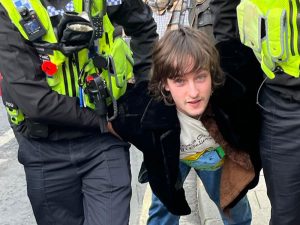 Laydees an' gennelmen (and anyone in between) of IsAC, I have absolutely no hesitation in proclaiming student Patrick Thelwell (23, going on 12 and a half) to be an A list cockwomble.
Thelwell is the Jack-the-Lad involved in the notorious 'egging' of King Charles last November. He's now appeared in court to plead 'not guilty' to a public order offence, on the grounds that his actions were a form of 'legitimate protest' against er, 'the establishment'. One can only assume that turning up to court wearing what appears to be the contents of an ageing hippy's dustbin was meant as a further indication of his contempt for said 'establishment'.
On leaving the court, the Extinction Rebellion and Green Party supporter declared 'this country needs a revolution'. Oh, but isn't he just the little class warrior though? No doubt he'll be just dying for the court to find him guilty and give him a smack on the wrist and a tenner fine, so that he can boast about his martyrdom for the cause to all his comrades in their local wine bar.
I'll tell you what he also is in my opinion. He's a smug, arrogant and utterly self-absorbed little poseur who's absolutely loving his fifteen minutes of fame.
Bore off, you wanker.
Nominated by: Ron Knee