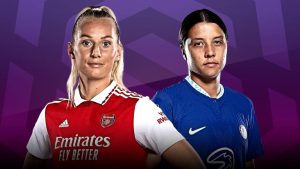 (Header pic unrelated to the 2 moaning wimminz here – Day Admin)
OK OK it's women's football….again.
But this isn't a cunting on the basis it is shit, or how the BBC push the agenda to brainwash the easily led into thinking everyone is watching women's football…except them, so maybe they had.
No, this is a cunting for this lady footballer Emma Mukandi who feels as a 'professional' athlete they are being victimised by men who make the rules on them popping out sprogs, and how it may inconvenience their club and their ability to actually do their jobs, so think the maternity leave and pay is somewhat 'unfair'
Apparently, so she says, it 'must have been made up by a man'
Her further comment of '"Bear in mind our body is our job, who even came up with that? Surely not someone who's played football and had a baby. Is that a man? It had to be a man. A man was definitely involved in that."
Yes, love it's your job and if your body is your job, then you don't get pupped up to compromise that job. It's different if you are a desk based pen pusher…your performance is barely affected by having a kid (I prefer child, but it's her word not mine) But surely she is no so thick to realise the one thing that earn her money- her body- is the one thing you shouldn't be compromising on. Sure have a 'kid' but realise it will affect your body and possibly your future performance- whether a male has made the maternity rules or not. There's a history of sports people doing things not relating to work, that has compromised their work performance- or insurance companies have forbid them to do so.
And then we go on to Claire Rafferty.
Another woman footballer, who now doesn't believe it is 'right' that physios, sports nutritionist and the like, who are employed by clubs at vast cost to improve players performance, should take into account a woman players weight as part of that assessment- just in case a player is mentally so weak they 'may' get an eating disorder. Sorry, didn't Emma Mukandi just state your body is your job???? Can't have it both ways love…….either clubs take an interest in fitness and the well being of your body, as quite rightly it is not only important to you, but also the club, or you don't want them to and let you go out and pig out on shit food and beer every night. If you are that weak that having your weight taken because you are a professional athlete gives you metal issues, then you are in the wrong job.
Never heard Gascoigne moaning what he was putting on some timber and being called a fat cunt by the opposition…….maybe this stupid tart would prefer that instead of others taking an interest in her health. Fuck me, I am sure she would be the first to complain, if she were dropped from the team
Nominated by: Chuff Chugger