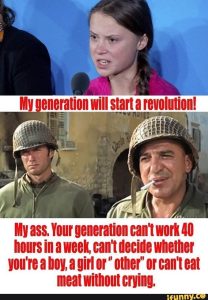 Ms. Fetal Alcohol Syndrome herself has been up to no good again.
This time, the millionairess grifter trudged of to Germany to protest the expansion of a coal mine. It seems the sausage eaters are doing this to relieve the costs imposed on families trying to heat their homes in winter.
Well, this bag of shit turned up and got herself forcibly moved on by the rozzers. Should've battoned the bitch.
Yes, you see Greta 'the science is settled' Cuntberg is demanding the lederhosen wearing shit eaters keep paying a fortune to protect the millionairess's 'future'.
Will she be worrying about putting her gas on? Which no doubt she does.
Fucking turn off all the power to this cunt's life. She die of shock at not being able to Tweet some bollocks after 10 minutes. If not, the spoilt little cunt would freeze to death on the first cold night.
Cunt!
Nominated by: Cuntybollocks