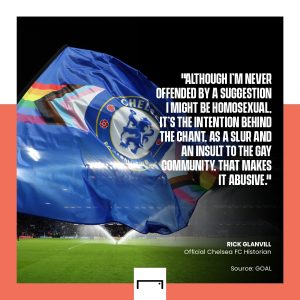 With the promotion of the gayness at football matches, we now have fan groups consisting exclusively of gays. 'Gay Gooners' for example.
Now if a gay wants to watch football, more power to him (they, them whatever the fuck nonsense). It seems though, the can't shut the fuck up about their sexuality. 'Ooh look at me I'm a gay!" Who gives a fuck? Keep your depraved antics to yourself.
Well now it seems singing the 'Chelsea rent boy' chant is to mean getting turfed out and banned. And before you say it's the lefties not so much the gays, I'd argue against that, as I've seen interviews with these fan groups demanding an end to such chants. But yes, lefties push for this too.
I'd argue it's not even 'homophobic'. It's a chant claiming that such and such an ex Chelsea player is a male prostitute.
Football is dying anyway, as all traditional chants get you done nowadays. "Who's the bastard in the black?" That'll get you turfed out. Swearing? Told to be quiet by the stewards and the fucking Tarquins who now attend games. Stand up? Told to sit down.
It's so gay, which is why they come in droves to games now, as well as shitty arses.
I wouldn't like to be the dad at the game whose young son asks what 'gay' means when he sees the banners everywhere, as well as why he needs to celebrate it . "Well son, it means that you must celebrate it when you know of a man who puts his pee pee up another man's shitpipe."
And they should use something more representative of their lifestyles than a rainbow flag.
A shit stained duvet, perhaps?
Get to fuck.
Nominated by: Cuntybollocks