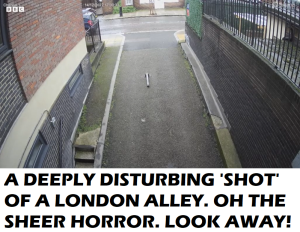 The MSM nannying up to an overtly 'sensitive' population.
Many times I have watched news reports on disasters, accidents, trauma and the like. I don't know about you, but we must have been made of sterner stuff back when I was young in the 70's- I admit, I found the maggot looking aliens with the green slime in an episode of Dr Who with Jon Pertwee a 'bit' frightening…but we didn't have warnings, before, during and after the episode about how scary it may be for their audience.
Now, however anything in the news that may be more 'frightening' than saying 'boo' to a goose is flagged up to warn viewers beforehand.
Personally, I think this is really getting out of hand. Below is a prime example of this bollocks to see what I am talking about. Seriously- if this is disturbing to a viewer, then they shouldn't be in control of their own bowel movements or have knives in the kitchen…or watch early episodes of Dr Who!
I watched this (and like most videos on MSM with a warning) I waited and waited for the disturbing scenes…..and they never transpired. Seriously, if you find this disturbing then fuck me we haven't a hope if we go to war.
https://www.bbc.co.uk/news/uk-england-london-64287970
CUNTS
Nominated by : Chuff Chugger