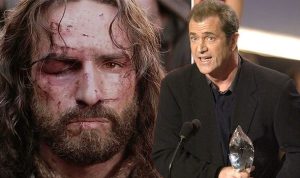 Sequels are cunts, aren't they.
Is there a more cynical money-grabbing move than the sequel?  Re-hash the whole rubbish again with the same characters, some knowing references to the first crap, and a repetition of any catchphrases.
Apparently, there will be another 'Passion Of The Christ' so that Mel fucking Gibson can make another $100 million when all the dopey devil-dodgers queue down the road to watch more shitty torture porn. Flogging their bishops while Jeebus is flogged.
Passion 2: Christ is back and he's pissed off. This time, he's not cruci-fucking around. This time, it's personal. If it's a comedy, how about Passion 2: Christ Goes To Monte Carlo? Perhaps it'll be like the Police Academy and we can expect lots more. Passion 6: City Under Siege.
Will anti-English and plastic paddy cunt  Gibson be making sequels for his other crap?
The Patriot 2: This time with facts!
Apocalypto 2: The taco years.
Braceheart 2: William Wallace is resurrected, but is attacked by the evil English who shoot him with lasers from their 13th century helicopters.
Psh
Nominated by: Captain Magnanimous
(That film might upset the Woke – Day Admin)