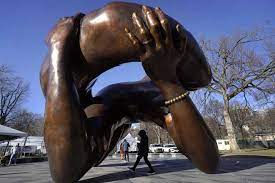 My fellow Cunters.
For Your Cuntsideration:
The MLK "Embrace" statue, Boston.
"……..I stand here today, to tell you about my dream. It is an American Dream, a dreamy-dream. I dream, that one day, my four children will not be judged by the colour of their skin-but by the content of their Twitter profile, er no, their character.
Furthermore, I have a dream, that in a park in Boston, many years from now, little black children and little white children, will stand hand in hand and gaze up at a $10m, 20 ft high statue, in memorial to today, debating whether it resembles a contortionist with his head up his ass, or a giant penis being wanked.
I dream that as they gaze in wonderment, they will chant:
"What the fuck? What the fuck? Goddamn-almighty, what the fuck?"
Amen brothers and sisters."
😂😂😂😂😂😂😂
Nominated by: Cuntfinder General