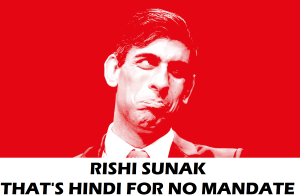 Our first British-Asian PM and What will the Woke Say Now?
Rishi is our new PM, born in Southampton and is therefore British despite his Asian background. I didn't particularly rate him when he was Chancellor, especially throwing billions of magic pounds at all and sundry during the pandemic. And there was also the matter of trust, especially after resigning from his position after disagreeing with the-then PM, Boris Johnson over a number of issues.
However, I am prepared to give this bloke a chance of pulling the Conservative party together at long last even though I don't believe it will ever be the same party of old.
What does and will interest me is how the progressive liberals will react to his policy decisions. Twitter, the BBC, the Guardian and a shedload of other "woke" standard-bearers will no doubt be far more cautious about criticising the man and his handling of the many issues that face the country.
It is well known that the woke fully endorse the concept of hate crime – in other words slagging off the usual suspects, including any hints of micro-aggressive actions. But if Sunak makes some bad decisions will the likes of the Guardian criticise him in the same robust way as they did with Johnson/Truss? Or will they just blame those around him rather than the man himself?
Labour will also find themselves in a similar situation especially during PMQT. Will the likes of Butler and Abbott take potshots at him? Will they say he is just a "superficial person of colour"? Or will they side-step the issue and blame previous administrations or other government departments managed by "whitey" ministers?
Whatever the response it is clear that the Woke will have to be far more cautious because for years they've been banging on about diversity and inclusion of BAMEs. Well here we are, it has finally happened, but will this please or annoy these trigger-happy cunts!
Nominated by: Technocunt