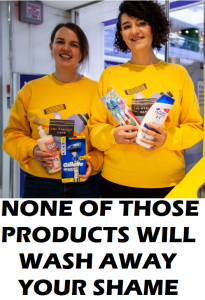 A "kindly adjust your dress before leaving – and wash your hands" – cunting for yet another soppy charity in search of a problem, who claim that many people are skipping work because they cannot afford to keep themselves clean and terriby embarrassed about it – indeed, they feel "shame":-
https://www.bbc.co.uk/news/uk-63403823
I would not-so-respectfully suggest that those people who claim to avoid work because of their personal hygiene, are actually work-shy lazy bastards.
The poor devils can't afford soap and deoderant (though I suspect most of them can afford a scratchcard and the Sun newspaper). You can buy packs of three bars of soap in Poundland for £1 (other poundshops are available) and you can buy both men and womens deoderants for 59 pence in Lidl (I buy it for the spouse to cover up her more malodorous farts, which echo round the room in the evening after a day on the chocolate peanuts). Beside if you wash properly you don't need a deoderant. In my RN days it was a shower every morning with Lifebuoy and again in the evening if you had a strenuous day – which was most days, there were no deoderants at the time, except the fruity gentemen who would discreetly apply a little perfume.
If you are THAT poor, you could even dive into a public lavatory and use the free soap in the dispensers, but I just feel this charity, no doubt fully suppored by Dame Kweer to show what bastards the government are, have been led up the garden path by lazy indivduals who prefer to sit and watch Holly and Phil all morning (and I bet Phil smells as lovely as Katie Boyle used to with her Camay).
If you do stink like a polecat, you could always get a job working from home, where, like the spouse, you can fart the day away to your hearts content and generally look like a compost heap.
How on earth do these charities exist and still manage to keep a straight face?
Nominated by: W.C. Boggs