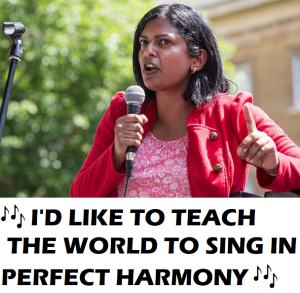 Rupa Huq is a cunt.
I am a dark key nominating a dark key for having a go at another dark key.. This is very weird so I'll keep it brief..
Rupa Huq (Konnie's ugly sister) did this. (And she is a fucking munter.)
https://www.bbc.co.uk/news/uk-politics-63050482
Kwasi Karteng – Eton and Cambridge.
Rupa Huq – Notting Hill and Ealing High School.(Private) and Cambridge.
Dark key cunt – University College School (Private) and Imperial College.
I'm struggling to understand what she said, and on a wider note, which one of us three has White privilege.
She is a monstrous cunt.
My pronouns are thee/thy.
Nominated by: Dark key cunt
And seconded by Lord of the Rings:
Rupa Huq is a racist cunt
story : Sly News Link.
In a bizarre u-turn from the usual anti-jewish sentiment, the Labour MP has decided, as 'a person of colour', to attack another 'person of colour'
She called Kwasi Kwarteng "superficially' black"
If she wanted to criticise his 'budget' and tax policies, fair game – after all, only a selfish rich cunt would think giving a tax cut to everyone earning over £150,000 a year was a bright idea during a bloody recession.
Her 'black on black' attack is not only vile, but facile and idiotic.
Firstly, if you want to reduce every argument to skin colour, he is 'blacker' than she is. I don't think anyone recognises her stupid rancid remarks as anything other than a claws out attack.
If you don't like somone's opinion or beliefs, argue against it in a coherent way.
Judge people by their character and their deeds. Their race, skin colour, religion or sexuality has nothing to do with them as a person.
The problem with labours elite, is they can't just keep calm and make reasoned measured arguments to put their view across. It always ends up with slagging somone off. How these twats ever get selected to stand is part of the problem.
Bizarely, Huq has a more priveleged background and education if anthing.
Mr Kwarteng earned his scholarship to university through hard work and application.
Left wing labour once again demonstrating why they can't be trusted. They've suspended her but are desperately trying to play this down. If a white tory had made a similar comment about Lammy, you'd never hear the end of it. Hipocracy once again. Labour are killing this country by not offering a proper opposition & alternative to the Tory 'let's feather our own nest' government.