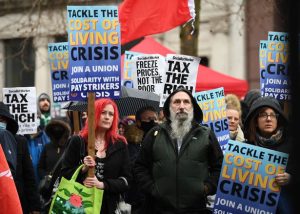 "The Government Should Do More To Help"…..
Too many people seem to think that the Govt. ( actually the taxpayer) should ride to the rescue when hard times hit. I think it really got started with the ridiculous and hysterical way that "Covid support" money was dished out to so many. It seems to have given people the idea that "Nanny will look after it" and at the moment "Nanny" is doing just that…unfortunately eventually The Piper will be to pay and it's going to be a harsh awakening for so many who have become Golden Tit dependant…not that the present (or past) round of politicians will give a shit…they'll all be financially protected,no doubt…….
As a bit of an aside….I'd love to be able to read the comments on here about "magic money-trees" and "bankrupting the Country" if Corbyn and "the lefties" had been dishing out the cash the way the Tories have lately…fuck me,the site would have probably lost half it's membership due to " death by boiling piss venting through every orifice"
Nominated by: Foxchaser-Fiddler
---
And in a similar vain there's this from Cuntstable Cuntbubble
Truss and the Tory suicide note.
They seem to have produced a budget for London and the Home Counties.
The more you earn, the better off you are.
45% higher earning rate abolished.
First time buyers get £450 stamp duty relief – I wonder to what part of the country that will apply?
National insurance increase cut back.
Banker's bonuses back to the greed for all.
I can only assume the cunts have had enough and want Kweer to take over. This budget is the end of the northern blue wall, the end of any chance in Wales or Scotland.
They have found Steptoe's magic money tree and redistributed it firmly south.