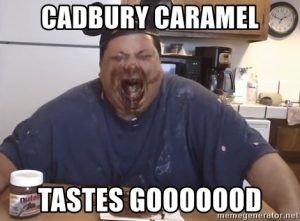 It's with a heavy heart I write this.
I feel like a traitor.
My whole life I've loved Cadbury's chocolate.
No better treat!
The finest chocolate in the world 🇬🇧
Belgium?
Switzerland?
…. Get fucked.
Cadburys was like heaven on your tongue,
Like virgins piss.
Then Kraft bought it out☹️
Fuckin yanks!!
They fuck up everything.
It's rubbish now.
I'd rather lick my own arse.
As a boy I'd have a bar of fruit and nut in my haversack, hiking up a Pennine trail, behind my dad, dog at my side,
And when we sat tired on the rocks surveying the beauty of the British countryside we'd share a bar of fruit & nut for 'energy'🙂
Can't do that now,
Be better off with a bag of crisps ( 70% air 30% crisps.)
So thanks for that Kraft you bunch of cunts.
Ps
I'll get my own back.
Just see if I don't.
Nominated by: Miserable northern cunt