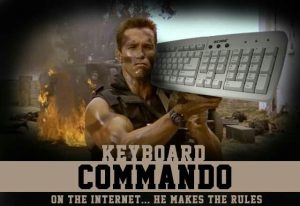 We've had one on here recently (the bike sheds fella). I refer to those cunts who act hard online. I've had people call me a cunt, 'correct' my speech and all sorts online. I've seen these cunts do it to others.
I'd wager they'd never do it in real life, the shithouses.
Not that I'm hard or anything. Well, harder than you anyway.
Who wants some?
Grrrr
Nominated by: Cuntybollocks