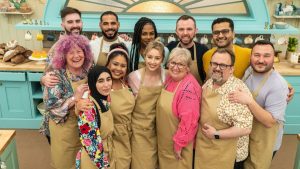 My wife watches this shit (Honest, not me, never .No) Anyway where to start:
There are 12 cunts in the tent. By demographics this should be 2 effniks and perhaps 1 uphill gardener.
However, as usual there has been massive racial discrimination. Against guess who?
We have 5 effniks, mostly not even British as per programme title. One appears to be of the gay persuasion.
A Pole who also lifts shirts. But is white.
What may or may not be a trannie.
2 Jocks, one of whom seems a bit limp wristed.
2 'normal' women. Yes, just 2.
Add the completely unfunny pair of cunts who engage in 'banter' One of whom looks like a victim of the gay plague. The other is simply a cunt.
And there we have C4 version of modern Britain. God help us.
Great British Bake Off Article Link
Nominated by: Cuntstable Cuntbubble