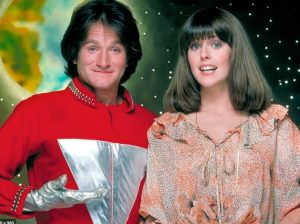 I have of late been reconsidering, revaluating morals that TV preached to me as youth.
Different strokes
A wealthy fruity Batchelor adopts two little ghetto black kids, in a kind act of early virtue signalling.
Think their parents were in prison or crack addicts or something?
Where was social services?!!
What were his real motives?
I can only guess.
Happy Days
A elderly Jewish midget starts to hang round some teenagers in a milk bar, he wins their confidence.
What do the parents do?
Invite him to live with them!!
To say the Cunningham's were naive is a huge understatement.
Mork and Mindy
A ADHD coked up alien lands in a egg,
Mindy finds this annoying extraterrestrial,
Does she inform the authorities?
No.
Endangers the human race to space influenza,
Doesn't tell anyone.
Luckily Mork didn't infect anyone and went on to make the world laugh in ever increasingly funny films.
Everyone loved Robin Williams.
But the lessons from the carefree 70s are tantamount to reckless endangerment.
I'll never trust TV again.
Nominated by: Miserable northern cunt