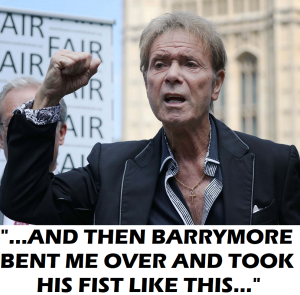 We've been forced to ensure this muppet's aural torture for decades now, and he's just announced he's spaffing out yet another catalogue of dirges as a Christmas album.
For goodness sake, please, no really, please, just piss off. You were a third rate Elvis for a couple of years in the 60's, amongst other things??? and whether you are boring the piss out of us at Wimbledon or pretending to be a sex-symbol in your eighties, you have failed to realise that the only people that will buy your pap are dried-up septegenarions and assorted friends of Dorothy.
On the subject of Dorothy, I would like to make it clear that in no way is Sir Cliff even on speaking term with Dorothy, let alone a friend of hers, oh no siree, absolutely not, how very dare you. He has just lived with an ex-priest (ahem) for 40 years because he gets a bit lonely sometimes.
Do us a favour Cliff, fuck off, and when you get there, fuck off again, obnoxious, sanctimonious, toothy twat.
Nominated by: Termujin
With a second verse from Cuntstable Cuntbubble:
He has used Sue Barker as his beard for 40 fucking years based on a couple of celibate 'dates'. She is pissed of with it and has finally cracked.
Shit singist and definite shirtlifter, but in a pious way.
I am just old enough to remember his shit fucking Elvis impressions. A sort of limp wristed Billy Idol.
The cunt.