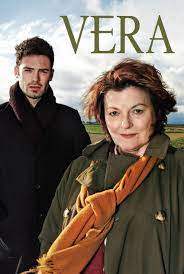 I wonder how many of you cunters knew that half the population of the North East is tinted. Well switch on to Vera, and that's how it seems. Although the murderer is always white. How strange.
Oh no, they're making yet another series of this festering pile of pigshit. Christ, where do I start? Well how about the boring story lines and risible attempts at a Geordie accent by most of the actors, which invariably sound somewhere between Welsh, Bulgarian and Parking Stanley. Then there's the subdued lighting and low pitched background noise to give a sense of 'Newcastle noir' foreboding. Except it doesn't, it's just fucking annoying.
And who do we have playing the hard nosed Detective Chief Inspector Vera Stanhope? Why, shortarsed Teletubby OAP Brenda Blethyn of course, who calls everyone 'love' when the correct Geordie term of endearment is 'pet'. And her back up team of plain clothes coppers? A Scotsman past retirement age and a collection of 20 something kiddies. Even one in a wheelchair for fucks sake. Does this fit the typical detective demographic? No, it's ITV fulfilling it's diversity targets.
So here comes series 12, which I expect will go diversity mad. Brenda's 76 now, so surely they'll pension her off to be the next Miss Marple. To give it some female glamour let's replace her with Dame Eddie Izzard in best frock and lippy. Back up team? Well those roles are a must for Ade Adepitan, Warwick Davis and Ellie Simmonds, who will all make highly credible police detectives. Where to film it? How about on the Newcastle quayside, at the coast or in the remote wilds of Northumberland, just for a change, eh?
I'm sorry to say that Mrs Twatt watches this shite, so that will be more business for the Whippet Inn from yours truly when it comes on. What a pile of cunt.
Nominated by: Geordie Twatt