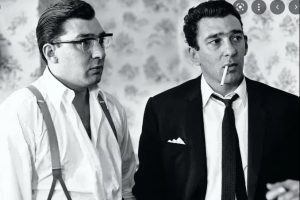 Two reasons for this cunting. I hope you haven't just eaten before you hear one of them if you hadn't heard it already.
First reason is the obvious one. The hero worship bestowed on these two criminals.
"Aw they luv'd their mum though!'
So fucking what? They nailed cunts to the floor and pulled out teeth with rusty pliers. That's if they were in a good mood.
They were thieving, violent fucking cunts.
The other reason, I wasn't aware of and only heard about in the last week. Some of you, I'm sure, will have heard it too, but if not, brace yourself.
We know that at least one of them, probably both of them, were gays.
No biggie.
However, the revelation by their official biographer is that they were bumming each other.
I wonder what Barbara 'they was luverly fellas, kind to their mum' Windsor would've made of all this?
The dirty gets.
Nominated by: Cuntybollocks