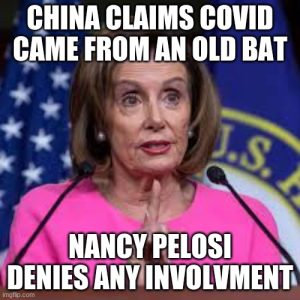 Nancy Patricia Pelosi 'kicks off Asia Tour.'
Just seen this stuff earlier today. It was also stated that she is now second in command to Sleepy Joe.(I think this means second in command/line after the VP, who is 1st in line to succeed Dopey Joe – Day Admin)
I have to laugh at this point though, because she is four years older. Certainly not one to trust, but at that age is showing no real signs of dementia as yet. Has been around since the days of the Kennedy's.
My question is "Why don't assassins ever shoot troublesome women?"
Nominated by: Lord Scunthorpe
(More info regarding Presidential succession here: Day Admin – Presidential Succession News Link )
---
W.C. Boggs isn't happy with Skeletor either…
NANCY PELOSI:
A real 4th of July cunting please for this stupid, staring dim-witted cunt who has, by her self aggrandisement and attention seeking, bought us ever closer to the third world war:
Even Biden had the wots to see het trip to Taiwan was a bad idea, but nonetheless the vacuous old bitch knew better. She reminds me of an elderly Rachel Reeves or Harriet Harman – a daft woman who thinks she is important, making a total fuckwit of herself.
We have enough to worry about with Russia and Ukraine, the last thing we need to do is bring the Ruskies and the Chinks closer together, but that is exactly what this arsehole has done.