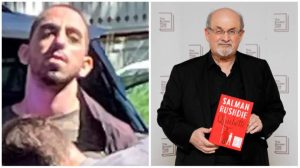 Salman Rushdie, knifed in the neck, possibly more than once, near a place called Buffalo, a city in N.Y. State. (That place is distinctively familiar, for some reason??)
The Fatwa has been in place since 1988 and is still out for the author of the Satanic Verses. And Allah, ( Bless them both!) and all those rag heads, have been waiting for this moment, for all these years, to get their revenge.
Who's been paying for this cunts protection, over the last thirty five years? Suicidal Sid, from Viz made me laugh, when he wore the T. shirt " I am Salman Rushdie" back in the 80's. But I guess some, have no sense of humour. Cunts!
Nominated by: Lord Scunthorpe
Supported by: Mild-Mannered Reporter, Cunt Kent.
An EMERGENCY CUNTING please for HADI MATAR, the heap of stinking pigshit that allegedly knifed Salman Rushdie
Never been a fan of Rushdie myself, always struck me as a know-it-all cunt, but anybody who stands up for freedom of thought and expression, especially against the you-know-who, scores points with me.
Let's hope Rushdie lives to annoy them another day.