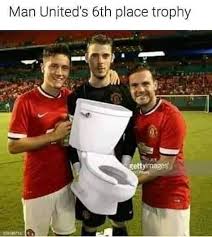 Manchester United are cunts. (Without even looking at the author, I just knew this nom was from our Norm – Day Admin)
I have heard all the usual crap: 'New season! New manager! New start!'
Well, all I can see is the same rapacious vermin owners, the same ineptitude and lack of ambition, and the same array of festering turds on the team sheet.
First of all, Erik Ten Thingy. It wouldn't matter if he was the greatest manager going (which I don't think he is!), not even Sir Matt (RIP) or Cloughie (RIP) could do anything with the useless pieces of shit on United's books.
Which leads us to the players themselves. Lazy, arrogant, slack arsed cunts like McGuire and Rashford have got yet another second chance. Yet they just stroll around with their usual 'don't give a fuck' attitude. Pissing in the face of the new manager and the supporters.
McGuire is the worst defender and captain in our club's history. And Rashford is a useless turd. They are not the only ones though. Sacks of shit like McTominay, Fred, Shaw, Bruno, and Dalot should be put down and sold for glue. When Brighton and Hove Albion can bully Man United at Old Trafford and play them off the park, then you know you are well and truly fucked and your team isn't worth a shite.
Then there is the Glazers and their laughable 'input'. As usual, the United of modern times go for some mercenary cunt who doesn't want to play for the club unless he's paid enough (some cunt called Frankie De Schlong).
So, they don't get him and they have no other options. So they panic at the last minute go for yet another joke of a 30 odd year old relic of a striker that no cunt has ever heard of.
Once this club signed daredevils and heroes like Hughes, Cantona, Van Nisterlrooy, Keane, and Robson. Now we are lucky if we get some Brentford reject. An absolute joke. We know the owners are scum, human leeches. But surely nearly 20 years of piss taking is enough?
I will say now, that this team of cunts will not get a Top 4 place, they will not win a major trophy, and they will not play in the old United tradition. The new 'start' and the new manager doesn't change a thing.
You can put a ribbon around a turd. But, at the end of the day, it is still a turd. No wonder Ronaldo wants to fuck off. (And relax! – Day Admin)
Nominated by: Norman
(Fucking 'ell Norm, the season is only 1 game in at time of writing and already you're ready to top yourself! – Day Admin)
(Update: Sorry, should say TWO games in… – Day Admin)
'A joke', 'bullied' & 'rotten' – are Man Utd at rock bottom?