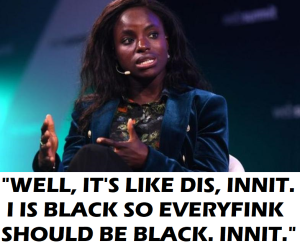 To be fair to her, this cunting is aimed at many in the media who have been whining about the England women's 'football' team not being 'diverse' enough. However, this lady has been particularly critical and it made for a shorter cunting title than, 'Complaints about England women's football team and its lack of diversity.'
First up, women's football is a joke anyway. It's fucking shite. That's not 'sexist hate' by the way, Wokegate and 'Hendo'. It's just an honest opinion.
The cunting is due to the fact that the chippy moaning cunts whining about there not being enough blacks in the team, never demand more honkies in our athletics teams, particularly in the sprint and long distance events. Or how an England under 17 boys' team recently was entirely non white apart from the keeper. Or how the entire studio panel and presenter for the World Athletics is entirely black on the 'British' Broadcasting Corporation.
That's all tickety fucking boo.
It's sport and you choose the best for the job. Fine if we're not doing that anymore then, let's see an all honky 100 metres, you fucking double standards cunts.
No, I didn't think so either.
Nominated by: Cuntybollocks