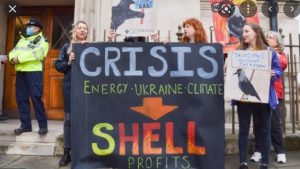 Centrica has announced huge 6-monthly profits today (27/07/22), with them making £1.34bn to the month of June compared to £262m for the same period last year. This follows the news that Shell announced a £9bn profit for the last quarter.
Inevitably Centrica bosses have defending the huge rise in the face of possibly one of the worst cost-of-living crisis for at least 50 years.
Quote:-
But Centrica chief executive Chris O'Shea defended the decision and insisted a lot of the firm's profits were "going back into society".

"I know it's difficult to see the word profits, or dividends, or similar words when people are having a tough time. I'm very conscious of this," he said.

"Bear in mind, over the next couple of years we are expecting to pay a windfall tax of probably well over £600m on our UK gas business off the back of the profits that we're seeing, so a lot of this is going back into society."
Well that's alright then!. And I suppose if you're a small shareholder the extra dividend might just be enough to pay for the expected 74% price cap rise for electric and gas at the next review in October, courtesy of toothless OFGEM – a company who has now decided to review the price cap quarterly rather than twice a year effective, from October.
Private businesses have every right to make a profit, otherwise what would be the point. But where does one draw the line during troubled times such as this and companies such as Centrica/Shell "exploiting" the situation with profits that could be seen as excessive!
Is it morally right for CEOs and other boardroom members to be rewarded with excessive pay rises/bonuses while millions of householders face a budget squeeze?
Whatever the rights and wrongs news announcements such as this won't go down very well with a lot of people.
Nominated by: Technocunt
Update: BP has also announced massive profits. in the last quarter they made just under £7bn – their biggest quarterly profit in 14 years.