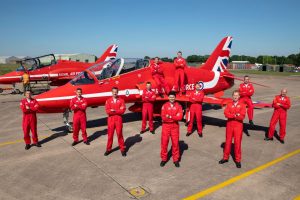 They're seen as a British institution,
Fly over for the Queens birthday and special events,
Always advertised top billing on posters for events…
They're boring as fuck aren't they?
Fast moving jets that have release coloured smoke.
Zzzzz☹️ (Greta won't be happy. "How Dare They!" – Day Admin)
It holds my attention for about 3 seconds.
Even as a kid I'd struggle to stay awake watching this aerial dullness.
If they want to make it more interesting have blind pilots,
Or pilots who've never flown before.
Maybe drop bombs filled with toffees?
Dunno, but its a waste of time and effort in my book,
Just replace them with a wet t-shirt contest.
Nominated by: Miserable northern cunt