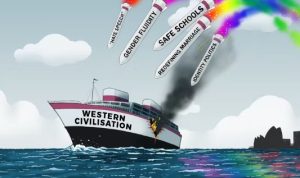 Im cunting non Western "culture". Lets have a quick peek.
Islamic culture is basically tiles that anyone can whack up in their bathroom.
China is as old as ancient Egypt and the cunts don't even have a legible writing system. The yellow cunts have a medical system just as backward. "Indigenous" cunts, a few feathers, bits of beads, wood and other flotsam and jetsam. Africa ……. How embarrassing. A few wooden masks and Benin Bronzes made from bronze coin obtained from…..slavery.
Other assorted bits and pieces that the BBC thinks are "civilisations". What a laugh.
Arrayed against that, Giotto, Salisbury Cathedral, Leonardo De Vinci, Shakespeare, Dante, Churchill and an endless mind boggling number of stale pale men who created everything and are responsible for the disaster of 7.8 billion people on this planet, the utterly ungrateful cunts.
Fuck em.
Nominated by: smugcunt