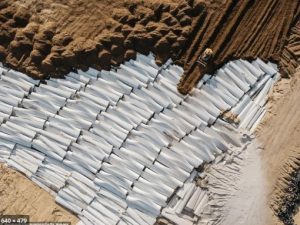 The endless bollocks about so called green energy is a cunt.
if you study the above pic, the little yellow thing is a bulldozer and the white things being buried are the blades of wind turbines that wear out and are not recycled.
This literally makes so called clean wind energy a load of bollocks, ipso facto.
WTF else is being flushed, buried, set on fire, hidden, shot into space in the name of so called green energy, that's before they find about little African kids digging Coltan out of the ground for electric car batteries.
So if all this really is bullshit, there must be a lot of cunts making allot of money out of this shit to warrant keeping it going….
Nominated by: Fuglyucker
(More info here, Day Admin – Old Bloomberg News Link)