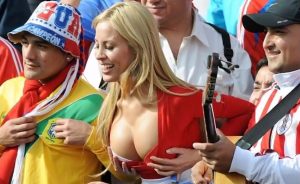 (I certainly Fancy her Dress! – Day Admin)
Cunts who go to sporting events in fancy dress are… well… cunts.
Grown men dressed up in ridiculous costumes, like Batman, Star Wars Stormtroopers, the Devil, Mexican bandits and the Super Mario Brothers. I saw all of these during the Test Match against New Zealand at Trent Bridge yesterday.
Such desperate look at me attention seeking is utterly pathetic, and these immature narcissistic cunts should not be allowed into the ground if they are not dressed suitably.
Nobody from my father's generation would have made such a wanker of themselves by dressing like a complete cunt and acting like a tosser in front of the TV cameras.
If some cunt went in fancy dress on to the Stretford End or the Kippax in the 70s, they would have been torn limb from limb.
Needless to say, these cunts who were at Trent Bridge will have selfied themselves and posted their pictures all over social media. Such are the cunt levels in today's society and the attention seeking culture we have these days. What a load of cunts.
No self respect whatsoever. These tossers will think they are being 'fun' 'wacky' and 'characters'.
No, they are being cunts.
Nominated by: Norman