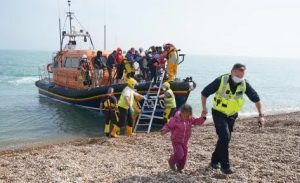 "Lone child refugees suffering neglect in UK hotels, charities say"
Shocking, I'm sure you agree. Having to come from a tent in war torn Calais to live in a hotel in Britain.
Then consider what sort of parents, having travelled 1000s of miles through the EU then send their kids, with hundreds of young, single Muslim or African (or even worse, both) males, on a fucking dingy?
These caring, loving parents truly would be a benefit to the UK.
Nominated by: Cuntstable Cuntbubble
---
And the Cunstable really has it in for the Grauniad!…
The Guardian and 'You wouldn't let it Lie' as Vic and Bob might say.
'Embarrassed to be British': Brexit study reveals impact on UK citizens in EU"
Fuck me they never give up do they.
Then we have:-
"I moved to France in 2020 in order to protect my right to live and work in France post-Brexit. My migration is 100% a result of Brexit."
Oh dear. A sad loss.
These poor fuckers, the Gemimas and Tarquins can no longer make housing unaffordable for locals in the EU as they have in large parts of the UK. Fuck me they may have to learn the language.
But there's more:-
"Brexit, and the British government's handling of the Covid pandemic, strongly affected 80% of respondents' feelings towards the UK, with responses including "deep shame", "disappointment", "a shit show", "embarrassed to be British", "shambolic", and "like watching a house on fire".
Covid? Really? Compared to the EU? Well you cant let facts get in the way of a good Remoan. God these people will be missed.
The Guardian, makes the Daily Express look moderate.