.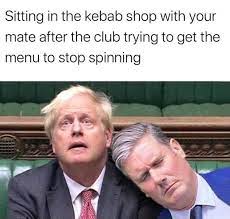 ("You're my best mate you are!" : Tweedledumb & Tweedledumber – Day Admin)
"A man with very high standards!" and one who has not relented in his Party Gate flack, directed at Johnson and Sunak. "Well I really think it's time to give that one a rest. But I guess as a former D.P.P. you might think it gives you some reason, and I guess your timing has been impeccable.
But really if you think about it, the collateral damage done should have been a lot worse. Doesn't that tell you something about yourself? Well sir! The Durham police are reopening their case on Beer Gate, so I suggest you shut the fuck up forthwith.and with any luck, you and your beer drinking buddies, will all get punished as well.
I will then have 6 of what you had, as I expect you have high standards with beer.
Nominated by: Lord Scunthorpe
And here's another one, this time from Fuglyucker
Kier Starmer is a cunt, the liar, liar pants on fire calling cunt who loves nothing more than criticizing Boris the idiot for the slightest little thing has now been caught out doing virtually the same thing and is pulling the same bollocks excuses about technically not breaking the law…
What a wanker, this is supposed to be the guy who will do a better job than the bag man of running the country.
Normally with these fuckers at least one of the cunts is better than the other, but i dont know in this case, they are both full of shit, both trying to fuck each other over, the only reason Boris the buffoon got in, is because he was slightly less of a cunt than that wizened oil fuck, Comrade Corbin.
Last time i voted for Nigel Forage and as did lots of others and as soon as he was looking strong the prick bottled it, so this time i voted by not voting, they are all elevens on the cunt scale, especially Starmer, fuck em all.
The house of cretins is a steaming pile of pig shit populated by useless, lying, porn watching, rule breaking cunts…..
---
And here's another, this time from Sick of it
A fuck of cunting for Sir Kweer.
The cunt has now gone on record that he will step down if he gets a fixed penalty fine over Beergate, it also appears that because the press have outed Angie (she wasn't there but she was) she will fuck off if she gets a fine.
On the face of it seems that this shows his integrity but does it, there are two things to think about, firstly, has he had legal advice that rules weren't broken and that there is very little chance he will be fined so he is on safe ground.
Secondly, by making this public statement he had put pressure on Durham police, they may claim that they will be fair and impartial but there is the nagging issue that should they give him a fine for what is in effect a very minor breach of the law it will end his career.
Kweer is a cunt, all the calls for Boris to resign has bit his arse but his cuntishness has reached new highs with his latest statement.
My guess is that he will not get a fine, but I hope he does (and scumbag Angie)