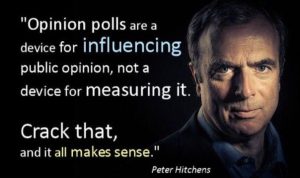 Before I start I apologise for including a link to a lefty, wokey, virtue signalling, politically correct electronic bog roll. I trust you all have strong stomachs.
Opinion polls. Pretty much confirm whatever their sponsor has asked for.
Mainstream Media. Relentlessly pushing their agenda to appease the globalist elite in a politically correct bubble so far divorced that they couldn't recognise reality if it kicked them in the face with a size nine hobnailed boot.
Here's the threatened link:
Do I really need to say more here? Probably not, but I'd be delighted to elucidate if anybody would relish a 5,000 word rant!
Nominated by: Mikdys