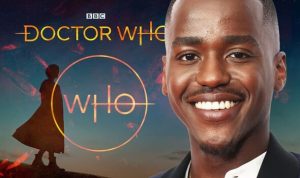 (The New Doctor : Ncuti Gatwa – Day Admin)
I would like to take this opportunity to offer the current guardian's of "Dr Who" for a cunting.
On my return this afternoon from the golf 🏌️‍♀️ course the radio voice in my car said that the new doctor Who would be played by a Scottish actor. The said his name but it didn't really sound very Scottish therefore I looked this up when I got back home.
See link please. BBC News Link
Well now I've tried to read his name I'm still at a loss of how to pronounce it. From the picture he looks more like a half of Guiness than a pint of heavy.
To me just another effort to be inclusive and tick boxes rather than follow the creators take on his creation. And it's a Cunt.
That's all folks A Cunt.
Nominated by: Everyonesacunt
And seconded by: Sixdog Vomit
Seconded!
A cunting for predictability above anyone else. We all suspected that the BBC would follow a woman with a black person and he's also an anal
Inspector.
How transparent is the BBC's priority of pushing work agenda above quality entertainment?
Wonder how many more will cancel their license now?
Dr Who doesn't exist anymore, the evil ones have taken over.
——————————————————————————————————————–
And there's even more. This time from Norman
The BBC are cunts again…
Didn't see this coming, did we? There are Daleks on Skaro who knew the next one was going to be black. Ah, but has the lad been chosen because of his acting skills, or because of his skin colour?
I think we all know the answer to that one. After all, this is the BBC we are talking about.
Still, it could be worse. At least it's not another fucking woman…
——————————————————————————————————————–
..and more. This time from Lord of the Rings
Russell T Davies, the BBC and Ncuti Gatwa? (me neither?)
photo : Guardian Photo Link
link : Radio Times Link
Rwandan/Scottish !! 'star' Ncuti Gatwa (who ?) has been announced by the BBC knobs and grinning moron Russel T'wat' Davies to replace Jodie 'I'm shit' Whittaker as the new Doctor Who(gives a shit).
I won't be watching, as I quit soon after Jodie 'breathless – look I'm zany' Whittaker fucked things worse than they'd already got.
Did the BBC even have a white heterosexual on the short list ? I fucking doubt it.
Just as an aside, I was at 'Star City' on Saturday to watch 'Thunderball' as they are showing all the Bond movies….
Despite the news media constantly telling me that 'Black/ethnics' are a minority and repressed by the 'white privileged' majority, as a Caucasian male, I represented maybe 5% of the people milling around……welcome to 21st Century Great Britain