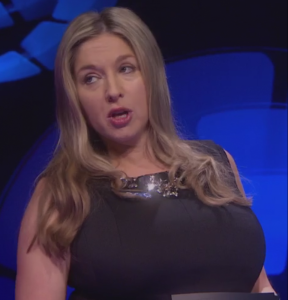 Victoria Coren Mitchell is a cunt, isn't she.
Intelligent, sexy, charming, funny, fair, modest, are all adjectives nobody would use to describe this tart.
Jimmy Carr does a gag about Hitler killing poîkeys and Coren defends him; a bloke on GB News makes a joke about that Iranian "journalist" and Coren wails like an amputee.
"Nazanin Zaghari-Ratcliffe is Iranian for 'ungrateful' " said GB News' Leo Kearse. Not a bad gag and something you could say regardless of whether the whingeing ex-prisoner was French, Norwegian, or Brazilian.
Not for this aloof bitch who called it 'wayy-ciist' and tediously banged on about it on social media. Coren, best known for her condescending voice, her dull gameshow, and chuckling about thickie Brexit-voters on Radio 4, visted Zaghari's husband while he was on a hunger strike. Incredibly, he survived the terrible ordeal.
Yes, yes, she's got an ample pair of tits but that doesn't exonerate this spoilt bitch. She and her portentously dreary husband seem to be obsessed with GB News and its viewers. It's almost as if the BBC creates these condescending, haughty, woke cunts in a laboratory.
Nominated by: Captain Magnanimous