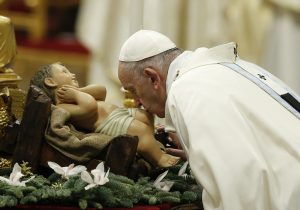 The Pope, again.
I wish this cunt would shut the fuck up and fuck the fuck off.
Today's papal pissboiler? He wants everyone to stop having pets and have kids instead.
The cunt doesn't care if you can afford them, house them, feed them, school them, just get out and make some kids. He thinks cunts like me are selfish for not having children, which I personally think is a responsible thing to do in an overcrowded, increasingly dangerous and uncertain world we currently inhabit.
Also, I'm thinking of the planet, with its dwindling resources and climate issues.
Unfortunately, the Pope gives zero fucks for these issues, all this cunt wants are more retards to fleece for cash, gold furniture and clothing doesn't buy itself, and more kids to tempt his employees.
Sadly, many of those suffering from Catholicism will go out and heed his words, and in a year or two there will be another famine, another civil war, another refugee crisis, and the old prick will have something else to pontificate about.
Nominated by: Gutstick Japseye