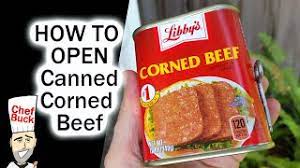 I like corned beef.
Its lovely.
I also like corner beef hash.
To make corned beef hash you need corned beef surprisingly.
But the tinned stuff comes with a unique opening comprising a little key that peels the tin back in a thin line .
But it doesn't.
Ive tried this must be 200 times and its only ever worked once.
Whoever thought this was a good idea is a sick fuckin maniac.
Its borderline fuckin useless .
I use a tin opener,
I know when im beat.
I know this isnt a main concern for most, its not earth shattering,
Or political.
But it drives me fuckin bananas.
Its a small torment that can get you down.
I think corned Beef should come in a ball,
Wrapped in foil.
Like a Terrys chocolate Orange.
Anyway thats my nom.
Nominated by: Miserable northern cunt