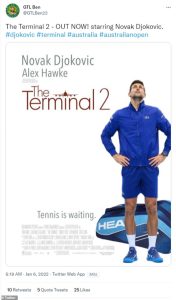 I probably spelt his name wrong as I couldn't be bothered to look it up. Then again I could have just put tennis cunt and everyone would know who l meant.
The cunt refuses to release his vaccination status – probably because his wife is a rampant anti-vaxxer who thinks covid is caused by 5G and he doesn't want to piss her off by getting a jab.
So he tries to bullshit his way into Oz and end up in a deportation detention centre. Boo boo for him.
If the Aussies let him get away with this, then they are bigger cunts than he is. Deport the cunt and ban his re-entry for three years just like they do for 'normal' people.
No jab, no entry, no play. No exceptions. Just fuck off…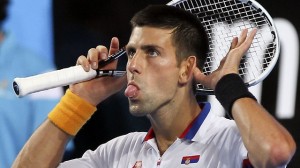 UPDATE: Just to add to my cunting of Covak whatsisname, the cunt has been given leave by the court to stay in Oz, so any player drawn against him should withdraw or stand there and just let him hit the ball.
Balls boys/girls should refuse to go on court with him.
Crowds should boo him every time he hits a stroke or comes on court.
Of course, none of this will happens because none of these moneygrubbing unprincipled cunts have the balls…
Nominated by: Dioclese