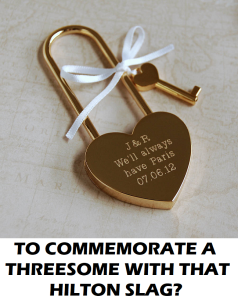 What the fuck is a love lock and why are they being cunted?
Well for the uninitiated miserable and heartless old bastards of IsAC, they are a padlock that can be fixed to a bridge or a gate or some other prominent public monument to symbolise a pair of sweethearts unbreakable love, with the key often thrown away into a river.
There are apparently hundreds of these places all over the world from Paris to Las Vegas to Dingo's Arsehole, outback Australia. Most look a fucking eyesore, in some cases causing structural damage , health and safety issues or just taking away the architectural brilliance of something that was built by master craftsmen hundreds of years ago by adding a load of rusty locks that belong in Steptoe's scrap yard.
Some places are embracing it of course, hoping to turn it into a tourist attraction which begs the question just how shit is the rest of the town? What will be next then, St Pauls graffitied with "Daz fingured Debs ere".
Nominated by: Liberal Liquidator
And supported by: Cuntfinder General
I first encountered these, during a cultural (sni.gger) weekend in Liverpool. (Stop laughing at the back!😉).
As reported, here: