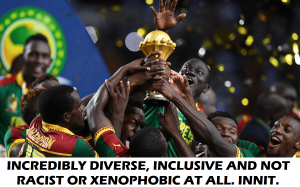 Does any football fan give a fuck about this competition? Of course not because it´s irrelevant. It´s a joke to call it African as practically every player plays in Europe.
However, that does not stop the BBC Sport making whines about the lack of interest a lead sport story. Former England and Arsenal striker Ian Wright claims the competition is being "disrespected" by some negative media coverage.
The Beeb also reports that Crystal Palace manager Patrick Vieira is among those to also call for the tournament to be given more respect. Sure enough he raises the race card. "There is no greater honour than representing your country. The coverage is completely tinged with racism."
This pathetic event starts on January 9 and we can expect non-stop coverage of thrillers such as Cameroon and Burkina Faso, Comoros and Gabon and my favourite Ethiopia and Cabo Verde (Cape Verde). I thought Ethiopia was in the middle of a civil war and nobody lives in Cabo Verde as they have all emigrated.
I tried to find a video link of the international game in which the (European) manager of an African team was so disgusted by the refereeing that he threw money at the ref who had been bribed. I could not find it but check this one instead.
https://www.bbc.com/sport/football/59825904
Ghana vs South Africa| Corrupt referee robbed Bafana of their world cup dream. CAF Match Fixing. – YouTube
Nominated by: Mr Polly