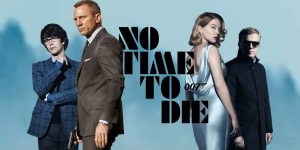 SPOILER ALERT (in case you haven't seen it and plan to).
I love a good Bond flick, me. Pretty much everything Ian Fleming wrote has already been used for the movies, so I accept screen writers need to come up with original plots, villains, gadgets, etc. while still using the main character, James Bond 007, as the vehicle to tell the story.
However, what makes a Bond film different from a regular spy/action movie is the tried and true Bond formula. In a nutshell, a proper Bond movie has these characteristics:
– Bond walking across the screen to the Bond music, he suddenly turns and fires a single shot towards the camera, blood trickles down and we're off!
– Opening action sequence featuring Bond up to no good, being discovered by baddies, a hot pursuit unfolds with Bond killing a bunch of them and escaping in some crafty way;
– Opening titles with a memorable song;
– Bond shows up at MI6 and gets his mission from M, usually with a bit of cheeky banter;
– A visit to the eccentric and professorial Q for some new gadgets;
– Multiple stop offs in exotic locations complete with seduction of beautiful women from whom he extracts information;
– Lots of action (fire fights, fist fights, car chases, etc.) coupled with amazing stunts;
– Bond gets captured and brought before the big villain;
– Big villain explains exactly how their dastardly plan will prevail and sets in motion Bond's demise;
– Bond escapes, foils the dastardly plot, snags a beautiful woman and lives to fight another day;
– Closing credits;
That's what the Bond audience expects from a Bond movie. Did we get that this time around? Did we fuck!
– We got the single shot to camera and trickling blood, but then we're shoved into a 24 minute opening (non-action) sequence spoken in fucking French between mother and child that doesn't even feature Bond at all! No explanation, no context and utterly confusing. I actually thought I'd put the wrong disc in the player.
– After 24 minutes we finally get the opening titles. Graphically OK, but oh my fucking christ what am I hearing? Bond themes should be special and memorable. In the past we've had classics from the likes of Shirley Bassey, Rita Coolidge, Carly Simon, Lulu and Paul McCartney and Wings (and I say that as someone who absolutely hates McCartney).
The last few Bond themes though have been absolute shite. Adele (Skyfall) and Sam Smith (Spectre) both utterly dreadful and instantly forgettable. However, the bar has been lowered even further this time around with an absolute dirge of vocal diarrhea from that green haired talentless slag, Billie Eilish.
I'd avoided assaulting my ears with her output thus far, but was caught off guard when she/it started warbling over the open credits. It sounds like she was off her face on drugs. The fact this piece of aural cak is associated with Bond is a tragedy.
Moving on…
– Bond doesn't even work for MI6 anymore. He's retired. Then he's hired by the CIA to grab a scientist also wanted by MI6. In an attempt to grab the scientist before the CIA does, MI6 sends in the new 007 – a black woman. No, I'm not making this up.
– As the very convoluted story unfolds and unfolds and unfolds (it's 168 minutes long), we find out the spotty teenager Q has The Gayness (how lovely and utterly pointless to the plot), the story is actually a continuation of the previous movie Spectre, the big villain from that movie dies, Bond's main CIA contact (Felix) dies.
– Bond now has a daughter by some blonde tart who did/didn't/did/didn't betray him and just when you didn't think it could get any worse, Bond saves the day on some remote island just as Royal Navy cruise missiles rain down and kill him. That's right – they've killed James Bond. FFS!
Things are wrapped up with a toast to the dead Bond in M's office and the blonde tart is seen driving away with Bond's daughter in his Aston. The End.
What a load of old cunt.
A very funny piss take of the stupid plot and moronic direction can be enjoyed here:
Nominated by: Imitation Yank