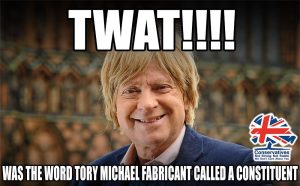 Michael Fabricant and His Extraordinary Hair
Earlier today I watched with fascination as MP Michael Fabricant tried to put a positive gloss on his boss's involvement in the notorious 'Partygate' scandal.
The source of my fascination was not however the content of the interview itself. Rather, I was fixated by the spectacle of Mr Fabricant's amazing hair. Could this preposterous barnet possibly be real I asked myself, or (as seems more likely) is it in fact a ludicrously bad syrup?
Initially I was of the opinion that the nation must be told the truth. But after briefly pondering on the matter, I decided that in this case, the truth is actually irrelevant.
Either way, the man looks like a total cunt.
Nominated by: Ron Knee