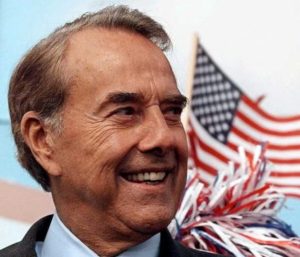 Congratulations to Shaun who correctly predicted the death of Former US Senate leader 1996 Reublican Presidential candidate and former US Representative Senator Bob Dole.Dole was 98 and was best known for speaking in the third person ,losing to Bill Clinton in 96 and being the star of viagra commercials.Bob Dole approves this message.
On to Deadpool 231
The Rules
1)Pick 5 famous cunts you think will be next to die.No duplicate picks.It is first come first serrve.You can always be a cunt and steal someone elses nominations from previous pools (like Black and White Cunt frequently does)
2). Anyone who nominates the worlds oldest man or woman is a cunt who we will ignore.
3)It must be a famous cunt we have heard of.
4)No swapping picks mid pool unless your nomination has already been taken.
5)Please check your nominations havent yet been selected as we cant be arsed to check.