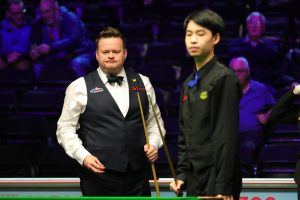 (Fat cunt loser on the left; amateur winner on right)
Here is my cue (see what I did there?) to get my extension rod on, the better to cunt the Mr. Blobby of the snooker world, Shaun Murphy. Long past his best, he was beaten last night by an amateur, and he was very angry about it. "It's not fair, it's not right", whinging like that, to my mind, means that he should replace Starmer as leader of the Labour party:
"Amateurs shouldn't be playing in professional matches" he says loftily – well it is not very "professional" to whinge like Claudia Webbe when you lose.
Murphy waddles round the table, looking like an 18th century nobleman who has forgotten his powdered wig, his jowls wobbling like Gordon Brown's during a seizure, usually to no avail, As a punishment I think he ought to be made to appear at his next match, wearing a pair of AnalEase Dodd's used drawers over his head – he will be able to see out through the fly hole. That'll learn him.
Nominated by: W. C. Boggs
(Talking of snooker; am surprised the Woke haven't come out said this is a racist game with the white supremacist ball potting (killing) BAME balls – Day Admin)
---
And then there's this from Duke of Cuntshire
Shaun Murphy
This cry baby has thrown his toys out of the pram after being knocked out of a snooker tournament by some amateur Chinese bloke.
He doesn't think that amateur players should be allowed to threaten his money earning potential citing, "He played like a man who does not have a care in the world because he does not have a care in the world. It is not fair, it is not right,"
You mean he actually played to win by playing exciting and unconventional shots?
Shove your cue up your arse sideways you fat fuck.