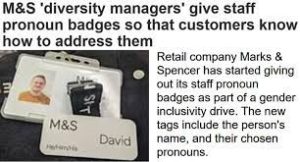 M&S have started giving out pronoun badges to their staff a part of a diversity (yawn) and inclusion drive. Staff can use He/Him/His, She/Her/Hers or They/Them/Their on the badges. So what no 'Two Spirit Unicorns? Fascists.
Apparently this bollocks will "help start some very necessary conversations around gender identity and non-binary experiences". Except it won't., there is no debate or dialogue or any conversations. You either conform to this rigid unflinching gender orthodoxy or face the Twitter cancel lynch mob.
I don't need to know some wankers pronouns to buy some overpriced sandwiches.
This isn't just a cunt, this is an M&S cunt.
Nominated by: Liberal Liquidator