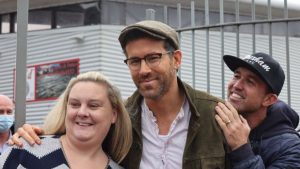 Modern football is a load of cunt.
Of course, we already know this. But isn't what is happening at Wrexham as ridiculous and as as much of a circus as it gets? Hollywood luvvie types, Ryan Reynolds and Rob McElhenney are now owners of Wrexham FC.
First of all, why? And secondly, where will Wrexham be when the novelty wears off for both them and for Reynolds and errr Thingy? Reynolds gushed in true Hollywood OTT style 'I am never sleeping again! Ever! Ever! Ever!' after a 2-2 draw at Maidenhead (for fuck's sake). The actors were accompanied to the match by a crew filming their every move. I bet they fucking were. It wouldn't be done to just be like normal fans. would it? And of course, some (but not all) Wrexham fans lapped it up and licked their celeb arses. One such cunt (some pub landlord) was all over Reynolds like a rash and drooling to BBC News. Pathetic.
I am naturally wary of all Hollywood celebrity Septics who claim to love 'soccer', but this is taking the piss. The national game as a plaything for dodgy Ivan oligarchs, Florida carpetbaggers like the Glazers, and gulf state fascists is bad enough. But now the Hollywood cunts have got a sniff of it and things can only get worse.
Can anybody else see this lasting? Can anybody see Reynolds and err the other one in the piss rain at a January FA Cup tie in a couple of years time? No, me neither. What a shameless stunt and what a pair of smug cunts.
Nominated by: Norman