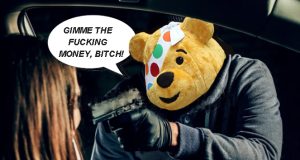 I cannot fucking stand it. The big build up to the BBC annual shitfest that is Children in Need.
It's bad enough that we have to tolerate the substandard rubbish that will be masquerading as entertainment on the night itself. At least we can turn that off, but the big build up…..jeez it goes on and on and on. Rammed down our throats.
Our kids are brainwashed in school and forced to take part in this crap. The chuggers are out in the streets rattling their big red buckets. You can't get into work without being accosted on the doorstep. This year the cunts are even knocking on doors.
One chugger cunt even called me a "tight fisted shit" when I told him I wasn't interested in donating.
It's all part of the Christmas build up when charities go into overdrive to part us from our hard earned dosh. Their message is simple. It's the season of good will when we should think of our fellow man, so give us your money.
Well my fellow man doesn't give a shit about me, so as far as I'm concerned he can fuck right off and preferably take fucking Pudsey with him.
Christ how I hate that bloody bear…
Nominated by Dioclese