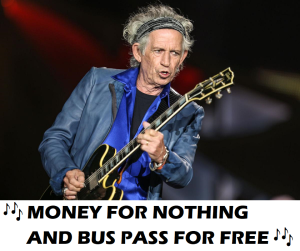 I´ve never liked the Rolling Stones particularly Keith Richards and Mick Jagger. One of the reasons was because I never understood how two Englishmen – one lower middle class and the other upper middle class – could spend their whole lives fantasizing that they were Blind Willie McTell slaves from the southern United States singing the blues after a hard day picking cotton and being whipped by the overseers.
My life-long antipathy was confirmed when I switched on a Netflix programme called "Keith Richards Under the Influence". It starts with a quote of such banality – "Life´s a funny thing you know" – that even Prince Charles would have sneered at it. Keith is obviously so spaced out that all he seems to do is chuckle at his own remarks.
At one point he "sings", "I love my sugar but I love my honey too. I´m a greedy motherfucker and I don´t know what to do."
Ever heard of retirement Keith?
Nominated by: Mr Polly