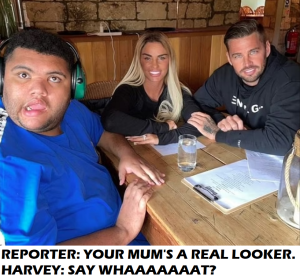 Katie Price spends some quality time with…
this truly evil photo of her looking fat and bloated. Love the description of her bland outfit!
Time to buy some nice comfy joggers from Primark, love. Go on, you know you want to.
As a matter of interest, there are currently at least four media items about Katie and/or Harvey. Your PR machine deserve medals, you cunt!
Nominated by: Jeezum Priest
And this from Fuglyucker
The law is a cunt as well as the spunk trumpet that is Katey Price.
Katey Price isn't going to jail for being off her comedy tits on drink and drugs, so now she's going to buy a house in LA, wasn't this fuckwit bankrupt.
She is such a cunt, how can this fucker not ever seem to get any karma, the world has been flushed down the toilet in my opinion, cunts like KP get away with fucking murder, others get sent to jail for a tv licence, there is no justice in the world,
i hope her tits explode on the plane or her snatch gets sucked out of the plane when she flushes the loo….
There has to be some justice in the world for this trollop….