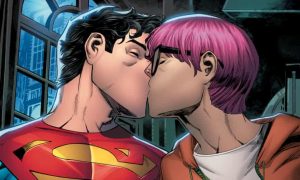 Is it a bird? Is it a plane? No it's Superwooftah the Camp Crusader in a same sex relationship with Boy Robin. Holy Twatman Gotham City has turned into the Manchester of the Universe. I am most seriously confused as all the Super Heroes are shagging each other and BatWoman is a munter in a consensual relationship with Lois Lane. Pass the BatDildo Lois. What next The Hulk is shagging Lassie and Goldilocks and the Three Bears are reimagined in all their LGBT glory?
Big splash KAPOW that Superman has been redrawn by some simpering Oz cunt with slap head hiding beneath a flat cap and very irritating chin beard – the sort of beard if seen on a MMA fighter would demand a Ground, Pound and KO. Oh how the little cunt twitters and puffs on about how an honour it is to have the opportunity to draw the Caped Crusader and his son with cock rings, butt plugs and arse piercings.
The Joker is on us.
Nominated by: Sir Limply Stoke
---
And then there's this from Ron Knee
Superman
A short while ago I came back into the living room to find the wife laughing so hard that she was actually spilling her tea.
'What's tickled your fancy?' says I, intrigued.
'Christ' says she, wiping a tear from her eye. 'Have a look at this', and points towards an article that's up on her computer screen.
Great Caesar's ghost! Can this be true? In another attempt to appear 'inclusive' and 'diverse', DC Comics has decided that its most iconic of icons, Superman no less, will 'come out' as bi-sexual.
I mean, can you Adam and Eve it? The most macho, alpha superhero ever, fresh from a hard day saving the galaxy again, returns home for a bit of a cuddle and canoodle with his 'friend' Jay Nakamura, a 'Gamorran' refugee, naturally.
You couldn't make this stuff up. Er, well actually you can if you're DC Comics and desperate to show how 'progressive' you are. Next thing you know, he'll be wearing his shirt outside his pants, sporting a man-bun and drinking soy latté.
'Look up in the sky! Is it a bird? Is it a plane? No, it's Superperson!'
DC Comics? Fucking AC/DC Comics morelike. I'm getting too old for this shit.
---
A late entry from Miserable northern cunt, regarding Batman from the 60s TV show in need of some young Dick!
Batman.
A billionaire goes to a circus.
There he sees a supple, agile young acrobat named Dick.
Upon finding out Dick hasn't any parents this rich man takes the boy dresses him in hot pants and mask and moves him in.
The billionaire isn't married, no girlfriend, and dresses in a mask and head to toe black rubber.
He also has a secret cave where he takes this pliable lad for god knows what.
At no time does social services intervene,
Likewise the police.
The rich get away with anything.
Why is Batman so interested in young Dick?
Has he touched Dick?
Gotham has its problems,
Like any city.
But its a stain on its reputation if it ignores the handling of young Dick by "Older man"
Bruce Wayne.
There.
I've outed him.