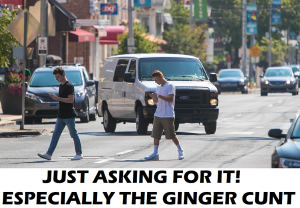 Fuckwits who deserve to get sorted out by natural selection, but live to be a fuckwit another day.
This is for all those fuckwits who can't even cross a road without help, you know the cockwombles I'm talking about:
– retards who ride across the road infront of you on lecky scooters when you luckily slowing for a junction;
– fuckmonkeys who walk into the traffic oblivious of the danger because they are up dating their facebook page…lol;
– dick heads who fling car doors open without checking mirrors, or just pull into already moving traffic;
– retarded inbred Swansea fuckwits who should have just been flushed down the bog at birth.
See this gormless slapper who in my opinion must have already cheated natural selection too many times, luckily for the bus company a driver with dashcam footage handed the film in to the bus company, or that knuckle dragging cabbage from the shallow end of the gene pool would have sued their arses and therefore cost every fucker more money.
This is even worse in Londonisbad, still im sure she wont do it again, but then again, she,s from Swansea so who the knows, natural selection awaits…..
Nominated by: Fuglyucker