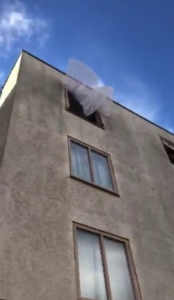 (NOTE: we have processed a nomination for the appalling "incident" yesterday, and will go live very soon. So please keep this Post on topic. Thanks – Day Admin)
Am I cynical and just know that this was staged.
The link shows a man entering a building and seconds later a glass window crashes to the ground, a lucky near miss or was it always destined to fall at the moment.
The window came from the mans brothers room Mohammed three floors up, ah now we are seeing the a little more evidence that the rules of chance may have been distorted.
Now the window was dodgy but any normal cunt would have put some duck tape on it and kept it closed until it could be repaired
Mohammed says his brother now has PTSD from the near miss and deserves some compo, fuck me, I knew there was a punchline.
Cunters you decide am I a cynical cunt or are Mo and his brother a pair money grabbing cunts.
Nominated by: Sick of it