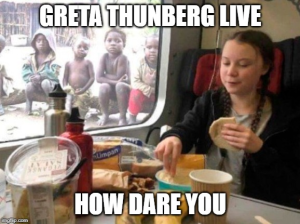 St Greta has been sounding of to her disciples about "climate villains". And guess what – the biggest climate villain is the UK.
Our Lady of Thunderpants reasons that the Industrial Revolution started in England and therefore the climate crisis also started here – " Of course, the climate crisis .. more or less it started in the UK since that's where the industrial revolution started, we started to burn coal there, so of course the UK has an enormous historical responsibility when it comes to historic emissions since the climate crisis is a cumulative crisis", Thunderpants thundered.
To add to the UK's enormous mass of cumulative historical guilt, we have made the situation worse by authorising new oil drilling operations in the North Sea. "Hypocrisy", said the Holy One.
The UK is also guilty of " creative carbon accounting" by not counting international shipping, air travel, or exported fossil fuels in its emissions reports.
In castigating the UK, St Greta neglected to mention China which accounts for 27% of the World's greenhouse gasses. Surely China is the biggest climate villain?
Now the Holy One has thundered from on high, Britain's Industrial Revolution will no longer be regarded as a great achievement but a historical crime. Just like slavery and empire. In Gretaland it would never have happened, and we'd still be running around in bearskins with flint knives.
What more can we expect from the holy prodigy, whom according to her mother, has the psychic gift of being able to see the colourless and invisible gas of carbon dioxide being emitted into the air.
As former Archbishop Roman Williams has said, we are blessed to have her in our midst.
Nominated by: MMCM
(Has she checked her white privilege I wonder? – Day Admin)
(We have a separate nom due to go live soon regarding Insulate Britain – the eco protest group. So please keep your comments focused on St Greta. Thanks – Day Admin)